image: http://image.vietnamnews.vn//uploadvnnews/Article/2018/10/8/cappe72625638PM.jpg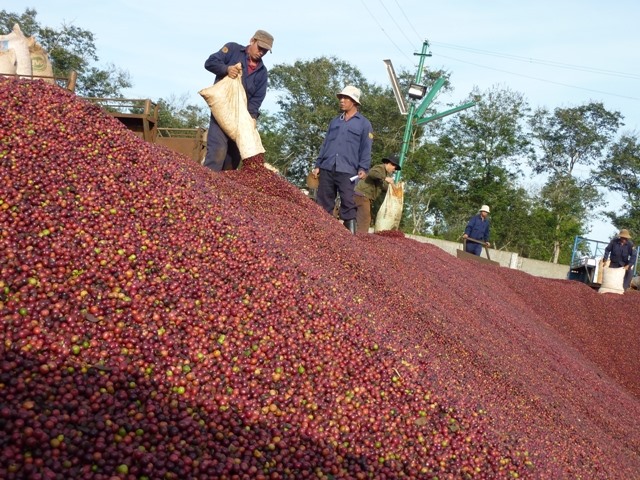 Robusta coffee exports rose in the first eight months of the year, reaching 1.125 million tonnes valued at nearly $1.98 billion. — Photo baodautu.vn
HÀ NỘI — Việt Nam exported 1.46 million tonnes of coffee worth US $2.77 billion in the first three quarters of 2018, an increase of 20.1 per cent in volume and 0.4 per cent in value compared to the same period last year.
The low growth in coffee's export value was attributed to the significant decline in coffee's export prices during the reviewed period.
In September, the average export price of Việt Nam's coffee was estimated at $1,731 per tonne, down 6 per cent against the previous month and down 25.8 per cent compared with the same period last year. In the first nine months of 2018, the average export price was $1,897 per tonne, a year-on-year decrease of 16.4 per cent.
After a period of sharp decline, over the past two weeks the domestic coffee prices have been rising again due to the increasing prices on the world coffee market. However, the increase rate was still very low.
On October 9, 2018, the prices of coffee in the Central Highlands were VNĐ36,100 per kilo at the highest and VNĐ35,300 at the lowest.
Đỗ Hà Nam, deputy chairman of the Việt Nam Coffee and Cocoa Association, said coffee producers faced many difficulties such as the supply surplus, the timing of the harvest season and technical problems.
However, coffee prices have signaled a rise—though not much, it is a positive signal for Vietnamese coffee. The world coffee prices are tending to recover, contributing to the increase in coffee prices in the country.
According to the Ministry of Industry and Trade (MoIT), domestic coffee prices rose again in late September and early October after dropping in the first 20 days of the month. However, prices remained lower than in August.
In the first eight months of this year, Germany and the United States continue to be the two largest coffee consuming markets of Việt Nam, accounting of 12.6 per cent and 9.8 per cent of market share, respectively. The markets with strong increasing export value were Indonesia (eight times higher), Russia (up 66.6 per cent) and the Philippines (up 46.6 per cent). In September, the domestic coffee market fluctuated much in line with the world market trends.
According to the International Trade Centre (ITC), Russian coffee imports in the first six months of 2018 reached 95,555 tonnes worth $294.54 million, down 0.2 per cent in volume and nine per cent in value against the first six months of 2017.
MoIT said that in the first half of this year, Việt Nam was the biggest importer of coffee into Russia with a 59.3 per cent increase in imports over the same period of 2017. The market share of Vietnamese coffee in Russia increased from 32.8 per cent in the first half of 2017 to 49.9 per cent. — VNS

Read more at http://vietnamnews.vn/economy/467394/coffee-exports-rise-but-value-stagnates.html#v5YHKi6FS8lWjmgC.99